Recipe Review .."Pumpkin Squares" from Recipe Dose.
Busy day....I got up a 4 am, got to work by 6:30 am. Got off work at 3 pm. Then I ran several much needed errands. Met my good friend Melissa for dinner at 5:30, we had a great time:-) Got back home around 8:15 and here I sit determined to make the deadline for Kristi's Foodie Friday on her blog"The Speckled Dog.
The Speckled Dog Foodie Friday
Yesterday I tried a new recipe I found on "Recipedose.com.
Recipe Dose
Pumpkin Squares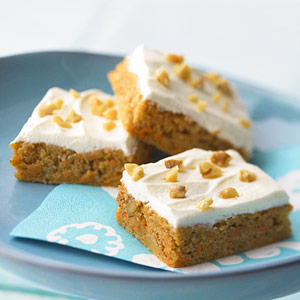 Preparation time : 45 min. | Serves 3-4 dozen squares
These pumpkin squares are one of a famous Halloween recipes so you can decorate it to make smiley pumpkin face using carrot pieces or nuts.
Ingredients:
2 cup flour
½ tsp ground ginger
¼ tsp ground cloves
¼ tsp ground nutmeg
2 tsp baking powder
1 tsp baking soda
1 cup sugar
1/3 cup margarine (softened)
½ cup brown sugar
2 egg
2 large egg whites
15 oz pumpkin pie filling
1 cup carrot (finely shredded)
For Topping:
4 oz cream cheese (softened)
¼ cup sugar
½ cup whipped cream
I gathered my ingredients.....only to find that one of them was wrong. I needed the 15oz pumpkin in a can but instead had bought the pie filling mix. I had to run back to Harris Teeter, I wanted to do this right, so the photo is not 100% accurate just gives you a general idea.






















Brodie was not happy until he got a taste. He loved the cream cheese!

Happy cooking everyone!:-)